His Majesty King Mohammed VI, may Allah assist him, accompanied by His Royal Highness Crown Prince Moulay El Hassan and His Royal Highness Prince Moulay Rachid, received Tuesday at the Royal Palace in Rabat, the members of the National football team, following their astonishing performance at the 2022 World Cup.
This audience reflects the High concern with which His Majesty the King has constantly surrounded the youth and the particular interest that the Sovereign grants to the sports and more particularly, football.
It follows the historic and unprecedented feat achieved by the National Team which was able to reach the semi-finals, the first and most resounding success of the kind of Moroccan, Arab and African football, during the final stages of this international sporting event.
During this royal ceremony, His Majesty decorated the President of the Royal Moroccan Football Federation, Faouzi Lakjaâ, and the coach of the National Team, Walid Regragui, with a second class Order of the Throne Wissam (Commander).
Similarly, the Sovereign decorated all the players of the national football team with third class Order of the Throne Wissams (Officer).
HM the King has also given His High Instructions for the awarding of Royal decorations to the team's technical and medical staff, in recognition of their remarkable achievements.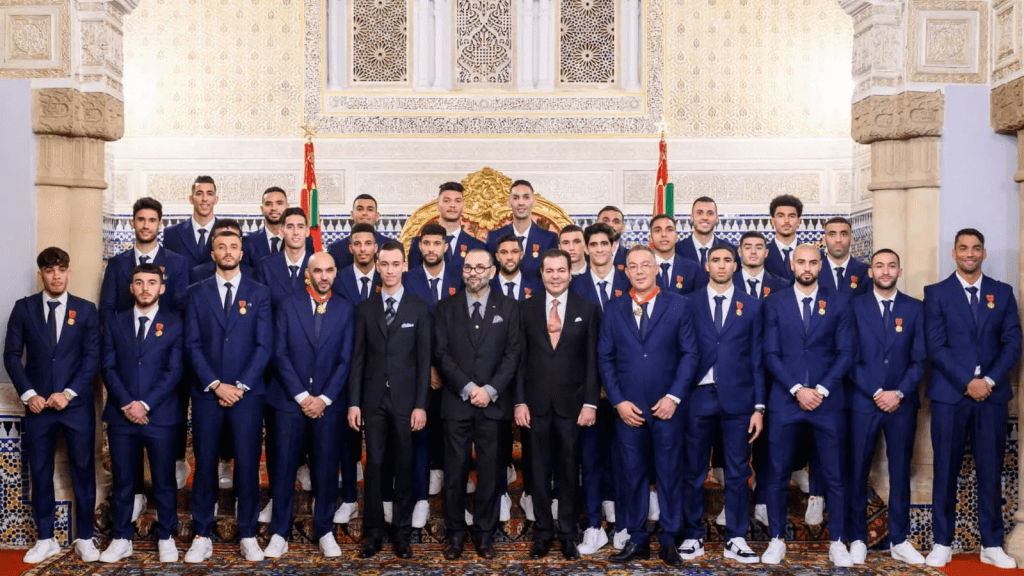 The reception by HM the King of the players, accompanied by their mothers, is a tribute paid to these Moroccan women who have taken care to instill in their children the values of patriotism, sacrifice and national belonging. It is also the expression of the place that the Sovereign grants to Moroccan women as pillars of the family and of society in general.
It should be noted that the members of the National Team had returned to the Kingdom late Tuesday afternoon. The inhabitants of Rabat, Salé and other cities gave the Atlas Lions a warm welcome, saluting their courage and sense of competition during the World Cup 2022.